It's been awhile since we've levied any criticism or against or written any satire about the Voice, which has been better written and more relevant (perhaps I should say, actually relevant!) in the past couple years or so while The Hoya has gone in the other direction.  So fuck, let's do it!
From today on the Voice's blog, here's a quote about their cover story today on Jack DeGioia:
It's pretty clear from this week's cover that a lot of Georgetown's faculty, staff, and students have a very high opinion of President John DeGioia. The majority of the people I spoke to for the cover see him as an able manager, a caring leader, and to some extent, a visionary.
The post goes on to cutely, not satirically, compare DeGioia to a superhero.  No joke.
If we take a look at this cover story, we see who the people who make up this "majority of people":
For this story, the Voice spoke to a dozen longtime faculty members who have known DeGioia throughout his career, and senior administrators who have worked closely with him as president.
Other than a couple of former students and Councilman Jack Evans (who seems pleased that the University has thrown students under the bus in recent years to improve relations with bitchy neighbors), I don't see anyone quoted in support of DeGioia who is not a Georgetown employee.  In other words, people who could be fired or otherwise forced out by DeGioia all think he's a great president!  It's amazing!
This is not as troubling on the surface as something a friend told me when I mentioned that I was going to be interviewed for this piece.  This friend used to work in the President's Office.  He or she was contacted by his or her former boss there, who let my friend know that it would "reflect poorly" on the boss and on my friend if my friend were to speak to the Voice for this story.  In other words, it was a threat.  In other words, DeGioia's office was actively working to make sure no negative information got in the story.  DeGioia's office didn't want former low-level employees to give any information to the reporter, yet current administrators, all 100% on-message, were apparently free to give their time.  (You have every reason to question my use of an unnamed source, which probably reads weird here, but I'm not willing to jeopardize a friendship for a stupid blog that is just about to delve into penis jokes.)
To its credit, the story does feature the point of view of the other side, cast here as students who criticize DeGioia for being aloof from student life, including yours truly contributing my usual poorly worded newspaper quote and an unusually extensive variety of chins I apparently brought with me to the Voice photographer's photoshoot.  I don't believe I was particularly relevant to this story.  I know for a fact you can find other critics in higher places than the student body.  But I had other, perhaps more vital criticisms of DeGioia that are not mentioned by me or anyone else in the article.  DeGioia's main gift seems to be his ability to grovel, as one can see in the money he has raised for the endowment and in his rise from a lowly hall director all the way to the top, or perhaps it's his ability to be totally inoffensive and forgettable as a human being.  But he is missing other leadership qualities, i.e. most of them.
And also to its credit, the Voice Ed Board correctly criticized DeGioia in the same issue.  But I think they could have investigated further.  Not like I expect that from a Georgetown journalist, but it's nice when it happens.
But enough of this bullshit, let's get to the penis jokes!
You see, the Voice cover has it all wrong: the administration is not like the Brady Bunch.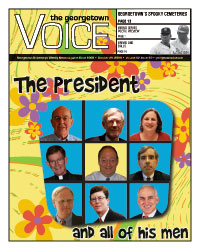 It's more like a circle jerk!  [I was going to Photoshop this, but I thought I would save all of us the vomiting.  So just imagine it in your heads.  Oops, sorry.]  Yay, let's all join the PEN15 Club!
There we go!  Now, it was obviously very hard for many of the administrators quoted to say any words to the Voice, on account of DeGioia's dick being in their mouths the whole time.  But, thankfully, they did!  So we get to take a look at their intelligent, reasoned ass-kissing.




Provost James O'Donnell
O'Donnell is pretty tame here, with no quotes to make fun of really, but on the upside, he is perfect for the Blingee treatment.




"Vice Presidents Interviewed for this Piece"
Best friends <3!
Rather than micromanage the University, the vice presidents interviewed for this piece said, DeGioia affects campus life indirectly, laying out his vision for the school, which different campus departments must then work to fulfill. DeGioia is concerned with the specifics of student life, Georgetown academics, and faculty composition to the extent that these factors contribute to his hopes that Georgetown will become a globally known, academically prestigious, and financially stable institution where important intercultural and interreligious dialogue take place.
So 1) DeGioia lays out a vision and does nothing personally to fulfill it and 2) does care about the ACTUAL EDUCATION GOING ON HERE, but only as far as it has to do with this other shit he's concerned with.  Sounds like a leader to me.  DeGioia cannot be bothered with students and faculty and learning.  He hates that stuff!  What does that have to do with a university?!  A university is about reputation and money, not about silly stuff like students and professors and education!
From his Leavey Center office, Todd Olson has a clear view of the heart of campus. To the west, he can see the Yates Field House, the Rafik B. Hariri Building, the Southwest Quad, the Harbin athletic field, and the bare expanse of earth where the new science building will eventually stand. Healy Hall's austere towers peek out over the roof of the Bunn Intercultural Center to the south. It is a fitting view for the man DeGioia relies upon to take the pulse of campus and report back about the state of student life.
In other words, Olson has the same exact viewpoint of student life DeGioia does: hundreds of feet up in the air and far away, the students looking like tiny ants.  Yes, Todd Olson.  Good Ol' Mr. Alcohol Policy sure has his finger on the pulse of the student body!  It's the perfect arrangement!




Professor Anthony Clark Arend
The piece ends, like all news features, with 9/11.  DeGioia, like many leaders that day, overreacted, basically shutting the school down and declaring a DPS police-state.  Next, DeGioia let student groups know that they had resources available to them!  (I know!  Student groups being given resources, not having to force them from the hands of the University!  And all it took was one measly terrorist attack across the river!)  And then what did DeGioia do?  He went out, pissed on some Jewish students who were in his way, and killed all the Muslim students on campus.  That's what we'd all do in that situation.  Right?
By the end of the day, DeGioia had attended and spoken at Catholic, Protestant, Jewish, and Muslim services across campus—an extremely important gesture, Arend said, at a school whose community expects spiritual as well as administrative leadership from its president. At the Muslim service, Wayne Davis said, DeGioia sought to reassure those attending that the Muslim community was welcome at Georgetown.

"What I'm sort of reflecting is the community came together, and President DeGioia was our leader," Arend said. "And it was a moment like that you say to yourself, 'This is the man we want to be president."
WOW.  WOW.  WOW.  WOW.  He didn't even murder one Muslim student, and there he was, SHOWING UP TO A HANDFUL OF ON-CAMPUS RELIGIOUS SERVICES!  What a spiritual leader!  Great story, A.C.!




Associate Dean Hubert J. Cloke
Clokey!  Always a joy.
Administrators seem aware of occasional student grumblings that DeGioia is aloof and under-involved in campus life on Georgetown. Speaking to the President's limited on-campus presence, Cloke said emphatically that a president who acted like he was "the mayor of Georgetown, out on the streets everyday" would be a president who was not doing his job.

"I don't think you have to be immediately there for everyone in these moments to convince people that the institution is concerned about them," he said. "I think at some point it's a waste of somebody's time. It's like Obama going to Copenhagen for the Olympics."
Students quoted in the piece may think they think DeGioia is not concerned enough about them, but as Clokey explains, deep down, they really are convinced he is, even though DeGioia is not "immediately there."  And Obama was wrong to go to Copenhagen to try to help win our country the Olympics (an established precedent for world leaders in the running for these things)!  What a waste of time!  Leaders should not spend their time traveling the world, seeking to advance their country and its institutions.  They should stay at home, doing concrete things that show constant, tangible progress.  You know, like Jack DeGioia does.  That's why he's always on campus, doing what he does best on campus, not being on campus.
Paying attention to students and their education and life on campus is just like Obama going to Copenhagen!




Vice President for Strategic Affairs / Interim Athletic Director Dan Porterfield
Dan Porterfield should be the president of Georgetown.  He has shown himself to be a competent manager just like DeGioia, but he has all the skillz DeGioia lacks.  Porterfield is an engaging speaker.  He's a serious academic.  He's charismatic.  He involves himself directly in student life.  He cares about students and their education very deeply.  It wouldn't surprise me if he knows the names of over half the students on campus.  He has actual opinions that people might disagree with, and it seems like he would at least somewhat decisive in his decision making, unlike DeGioia's wishy-washiness.  As for grovelling for endowment money?  Porterfield wouldn't have to.  As I said, he's an engaging speaker.  Alumni would freely open their wallets for him.  He would be an excellent face of the University.  And I'm sorry my endorsement probably somewhat hurts his chances of that ever happening.
However, he said this, referring to DeGioia: "Virtually everything that we do that you see here, he created."  How could you, Dr. Porterfield?!  You make DeGioia sound like a god!  I really hope this brown-nosing is an isolated incident that is nonetheless necessary for you to become president.  Please, Porterfield.  You give me faith in Georgetown administrators!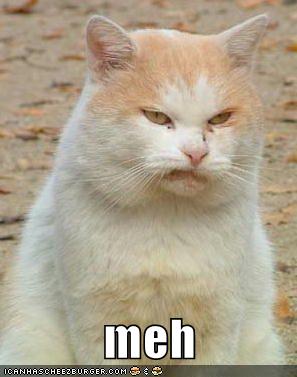 Professor Pietra Rivoli
Congrats to this lady too!  This is some great stuff.
When then-President O'Donovan announced his intention to retire, DeGioia seemed to many like a natural candidate to take his place. Pietra Rivoli, a business school professor who sat on the selection committee, said that the 23-person committee tasked with finding O'Donovan's replacement interviewed tens of candidates, Jesuit and non-Jesuit alike, from private sector, educational, and public policy backgrounds, but that none of them evinced the knowledge of Georgetown that DeGioia had.

"He knows where the light switches are in every building," Rivoli said.
He may have no idea what is going on on campus, but he knows where the light switches are, so if he were to ever get forced out, he could take a job with the University as a janitor!  It's good to know DeGioia has the skills of an autistic.  A young Illinois State Senator, Barack Obama, also came before the selection committee seeking the job.  "You seem like you have some interesting ideas, and maybe some leadership qualities," Rivoli said.  "But do you know where all the light switches are?  Do you know what kind of wood the crosses are made out of in Walsh?  Do you know what brand of tea they buy in the English Department?  No?  Meh."
Meh?
Rivoli said DeGioia also showed unparalleled enthusiasm for the University.

"He was spellbinding, he was captivating. That's why he is where he is today," she said. "An interview would finish and we'd all look around at each other and sometimes it would be, 'Meh, I don't think so,' but with Jack, I remember we would all just look around at each other and say, 'Wow.'"
Rivoli is a lolcat.  That's the only explanation.  When you see DeGioia speak, you think, "Wow, this man is spellbinding and captivating.  Spellbinding and captivating.  Spellbinding and captivating."
Meh.



I am now officially a crazy blogger!  How the hell did this hit 2000 words?